Spray Foam Insulation Helps Create a Comfortable Space for You to Get Your Work Done and Store Your Prized Possessions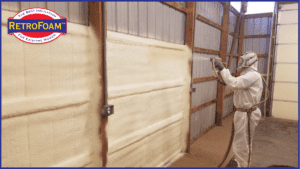 When it comes to building a pole barn, a lot of people underestimate not only the importance of insulation, but the importance of properly installed insulation. The secret to effectively insulating your pole barn is to address insulation needs before construction begins. If you have a mediocre design plan, you will struggle to withstand varying temperatures no matter the type of insulation you use.
Most pole barns are typically assembled using wood framing with steel roofing and siding. Steel roofing has proven to be very conductive in terms of heat transfer, meaning, in a non-insulated pole barn, a lot of heat will be shifting in and out. In the summer when the sun is beating down on the roof, most of that heat will seep into the building, making it unbearable. On the other hand, during the winter, any heat generated from inside the building will easily escape.
Pole Barn Insulation:
Reduces Energy Bills – Traditional insulation materials allow air to flow through them, causing your air conditioner or furnace to have to work harder. Keeping conditioned air in, and outside air out has proven to be more energy efficient.
Keeps Bugs, Birds and Rodents Outside Where They Belong – Unlike fiberglass, foam insulation does not provide nesting opportunities for animals and they are unable to digest the foam as well.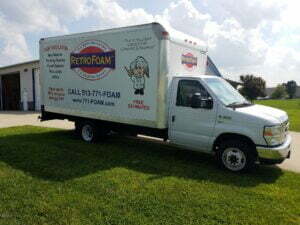 Prevents Condensation from Entering – A difference in temperature between the outside of your pole barn and the inside creates condensation.
Provides the Ultimate Comfort – Our foam insulation produces an essential air seal which keeps the temperature regulated and consistent all year round.
Overall, spray foam insulation is the premiere choice if you're looking to keep your pole barn at a consistent temperature, lower your energy costs and avoid future issues. Cincinnati RetroFoam has been insulating pole barns in Ohio, Kentucky and Indiana since 2016. Schedule a free quote and allow us to help you create the pole barn of your dreams!